Registration Day of Event / Vehicle and Driver = $ 25.00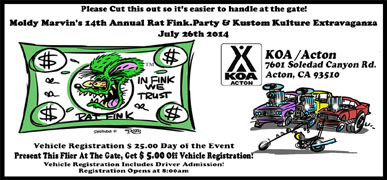 Click here to download coupon and save $ 5.00 at the gate!
Vehicle Registration Includes Driver Admission & Pool Pass
Passenger Admission $ 10.00 Includes Pool Pass
Registration Opens at 8:00am and will be Open until 3:00pm
Event Starts at 10:00am, Music starts at 11:30 am Event is over at 9:00pm
Open to pre 1976 Classics, Kustoms, Hotrods, Muscle Cars, Lowriders, Vans, VW's, Motorcycles, Trikes, Trailers, Teardrops, Bicycles, Minibikes & What ever else you may have along with other vintage automotive vehicles. There are no year restrictions for Custom Motorcycles and newer cars that are of special interest and drastically customized. If you are in doubt please give us a call first prior to coming out to the show. Our numbers are listed below.
We will be parking on the grass so please be patient while we direct you to your parking space.
Please watch for flagged items on the grass and do not run over them!
Note for Motorcycles: You may want to bring a piece of wood to stabilize your kick stand!
If you have a club that would like to display together, Please come together!
If you don't plan on staying for the entire duration of the show please let us know so we can park you in an area that will be more accommodating when you decide to exit. Before you exit please find one of our staff to help escort you out of the show area.
If you plan on bringing a Tow Vehicle with trailer or a Motor Home with trailer, that is fine, however you will have to park them in a designated area.